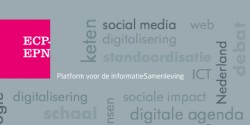 Already a partner in 2011, ECP-EPN Foundation is again the Dutch national partner for Get Online Week 2012. In the Netherlands, ECP is the public agency that aims for internet inclusion.
Together with its partners, ECP launches a three weeks campaign (starting 25 March) with the title "You're never too old to learn..", ..to skype with your granddaughter, ..to send an email to your colleague, ..to check your bank account online. They will involve 2.050 telecentres.
Advertisements will be visible and audible in local media. Moreover, 30 to 40 of ECP's partners, large companies such as banks, government, not-for-profits, ICT- cable and energy companies will include the campaign in their offline and online communication with their clients. Thus, the central message of the campaign will be seen by at least 80% of the Dutch Population.
Currently, about 11% of the Dutch Population are not online, or at least considered not skilled enough to use all the advantages of being connected to the Internet. During the campaign, they will be asked by their bank, by the tax office, their cable company and numerous other institutions to open an online account, or carry out a simple online transaction, or find a bit of information. Just as an exercise, just to take away doubts or fears. Thus we encourage the targetgroup to a step by step experience the advantages of the internet. If they get stuck or just don't know how to, they can call a tollfree number and receive instant assistance by an experienced volunteer.
The other 89%, those who are well connected to the internet, will be asked via online media (social networks, newssites) to find in their neighbourhood someone (mother, colleague or friend) who could do with a little assistance and help them with their first log into a dedicated internet training.
The partners of ECP will be printing the campaign logo and the pay off on their invoices en letters. Furthermore, via mail and intranet they will support the campaign and encourage their employees to help their friend, colleague and family to get online. Their own callcentres are prepared to give extra attention to their online debutants. Almost all efforts and media are provided for free.
Thanks to all partner organisations and volunteers ECP is looking forward to a friendly, widely visible, low cost campaign that includes a win for everybody.
Contact: Mrs. Joyce Martina, Advisor